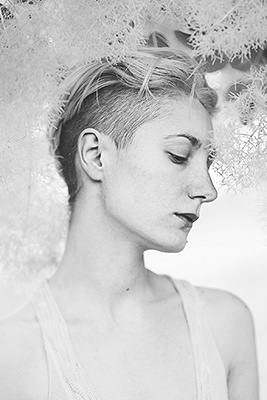 Dayana Montesano was born in Rome in 1985.
Since the very early stage of her artistic and educative development, she got into visual arts exploring devoid of prejudice both traditional techniques and digital approach.
Obsessed by dream and the unconscious, she explored these aspects in detail by means of psychoanalysis, in order to better understand herself and the world around her.
Between 2014 and 2016 she was granted three scholarships at Scuola Romana di Fotografia (Rome School of Photography), where she attends a masterclass in "Personal and creative research" and a masterclass in the field of nude photography named "Naked photography".
Her works have been selected by Officine Fotografiche for the "DNA Pictures".

PUBLICATIONS: her photographs have been published in diverse magazines, among which Vogue Italia, L'oeil de la photographie, FotoCult, Panorama, Kaltblut, Image in progress, Get Inspired Magazine, and others.
COLLABORATIONS: Lomography.

CLIENTS: Vogue Italia, Battistoni Haute Couture, Mondadori, Elite Model Look.

EXPOSITIONS: Her photographs have been exposed in diverse galeries and events, among which it is particularly worth noting the Leica Gallery in Milan.
She exposed her works twice in Hybrida Contemporanea art gallery in Rome as well as at Palazzo Comunale in Florence.

PRIZES awarded in 2016: Winner as "New Talent of the Year" at MIFA 2016 (Moscow International Photography Awards) with
"Analysis" series; first prize in "self-portrait" category at IPA 2016 (International Photography Awards) with "I'm"
series; second prize in the three categories "collage", "self-portrait" and "portrait" at TIFA 2016 (Tokyo
International Photography Awards); honourable mention at PX3 2016 (Prix de la Photographie Paris) with single
image "Copper and Gold"; honourable mention at TIFA 2016 with single image "Princess".

LECTURES: She held a seminar lecture at Accademia di Belle Arti di Roma (Rome Fine Arts Academy), entitled
"the poetic image counterposed to the stereotyped image".
She is represented by the Luisa Catucci Gallery, in Berlin.